Professor Halina Bednarek-Ochyra
Full Professor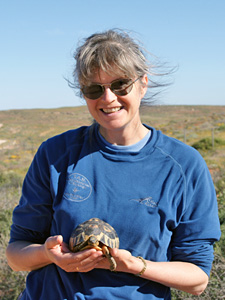 Unit
National Collection of Biodiversity of Recent and Fossil Organisms
E‑mail
This email address is being protected from spambots. You need JavaScript enabled to view it.
Address
Lubicz 46, 31‑512 Kraków, Poland
Research interests
Systematics, ecology and chorology of mosses and liverworts on a global scale (Grimmiaceae with special reference to the Racomitrioideae, Plagiotheciaceae, Amblystegiaceae, Dicranaceae, Ditrichaceae, Bartramiaceae).
Mosses and liverworts in the polar and cold temperate zones of the southern hemisphere and high mountain areas in the tropics.
Floristics and chorology of mosses in Poland.
Nomenclature of mosses.
Botanical iconography.
Recent publications (selected)
Ochyra R., Bednarek-Ochyra H., Plášek V. 2023. Early history of the moss genus Anacamptodon and a lectotype for A. splachnoides (Amblystegiaceae). Acta Biologica Plantarum Agriensis 11: 417–440. DOI
Ellis L.T., Afonina O.M., Atwood J.J., Bednarek-Ochyra H., Burghardt M., Dragićević S., Vuksanović S., Espinoza-Prieto B., Opisso J., Goga M., Bačkor M., Graulach A., Hugonnot V., Koroleva N.E., Chandini V.K., Manju C.N., Mufeed B., Natcheva R., Norhazrina N., Syazwana N., Peralta D.F., Plášek V., Popov S.Yu., Porley R.D., Rimac A., Alegro A., Vuković N., Koletić N., Šegota V., Sabovljević M.S., Schäfer-Verwimp A., Sérgio C., Ştefănut S., Taha M.A., Abou-Salama U.Y., Wolski G.J. 2020. New national and regional bryophyte records, 62. Journal of Bryology 42: 195–208. DOI
Ellis L.T., Alikhadzhiev M.Kh., Erzhapova R.S., Blom H.H., Bednarek-Ochyra H., Burghardt M., Cano M.J., Czernyadjeva I.V., Kuzmina E.Yu., Potemkin A.D., Doroshina G.Ya., Dagnino D., Turcato C., Minuto L., Drapela P., Dulin M.V., Fuertes E., Graulich A., Hassel K., Hedenäs L., Hofton T.H., Høitomt T., Jukonienė I., Kırmacı M., Koroleva N.E., Krajewski Ł., Kropik M., Kürschner H., Kushnevskaya E.V., Larraín J., Lebouvier M., Maksimov A.I., Pisarenko O.Yu., Plášek V., Skoupá Z., Popov S.Yu., Fedosov V.E., Puglisi M., Stebel A., Ştefănut S., Vončina G., Wierzgoń M., Guo S.-L. 2020. New national and regional bryophyte records, 64. Journal of Bryology 42: 393–412. DOI
Krajewski Ł., Adamec L., Saługa M., Bednarek-Ochyra H., Plášek V. 2020. Welcome to the Czech Republic again! Rare northern mosses Calliergon megalophyllum and Drepanocladus sordidus (Amblystegiaceae) in South Bohemia in light of their European distribution and habitat preferences. PhytoKeys 154: 111–136. DOI
Bednarek-Ochyra H., Plášek V. 2019. Entosthodon productus (Bryophyta, Funariaceae), an addition to the moss flora of the subantarctic Îles Crozet. Herzogia 32: 68–79. DOI
Ellis L.T., Afonina O.M., Czernyadjeva I.V., Ivchenko T.G., Kholod S.S., Kotkova V.M., Kuzmina E.Yu., Potemkin A.D., Sergeeva Yu.M., Asthana A.K., Gupta D., Sahu V., Srivastava P., Bakalin V.A., Bednarek-Ochyra H., Campisi P., Dia M.G., Choi S.S., Dagnino D., Minuto L., Turcato C., Drapela P., Dugarova O.D., Tubanova D.Ya., Enroth J., Koponen T., Klama H., Erdağ A., Kırmacı M., Fedosov V.E., Hodgetts N.G., Holyoak D.T., Jukonienė I., Konstantinova N.A., Savchenko A.N., Vilnet A.A., Krival E.A., Kürschner H., Lapshina E.D., Larrain J., Ma W.Z., Maksimov A.I., Marino M.L., Müller F., Pande N., Park S.J., Sun B.-Y., Pivoras A., Plášek V., Puglisi M., Sciandrello S., Rajian N.J., Suleiman M., Schäfer-Verwimp A., Shevock J.R., Spitale D., Stebel A., Taha M.A., Porley R.D. 2019. New national and regional bryophyte records, 61. Journal of Bryology 41: 364–384. DOI
Ellis L.T., Afonina O.M., Doroshina G.Ya., Agudelo C., Andriamiarisoa R.L., Asthana A.K., Gupta D., Rawat K.K., Sahu V., Aymerich P., Bednarek-Ochyra H., Brugués M., Ruiz E., Sáez L., Callaghan D.A., Caspari S., Drapela P., Dugarova O.D., Tubanova D.Ya., Erzberger P., Flores J.R., Suárez G.M., Fedosov V.E., Gospodinov G., Gradstein S.R., Reeb C., Jukonienė I., Subkaitė M., Kučera J., Lee G.E., Lombo Y.J., Suarez K.Y., Lebouvier M., Majumdar S., Müller F., Nagy J., Norhazrina N., Papp B., Plášek V., Pócs T., Puglisi M., Schäfer-Verwimp A., Shirzadian S., Singh D.K., Ştefănuţ S., Torzewski K., van Melick H., Wolski G.J., Zander R.H. 2019. New national and regional bryophyte records, 58. Journal of Bryology 41: 63–84. DOI
Ellis L.T., Aleffi M., Bączkiewicz A., Buczkowska K., Bambe B., Boiko M., Zagorodniuk N., Brusa G., Burghardt M., Calleja J.A., Mazimpaka V., Lara F., Fedosov V.E., Gremmen N.J.M., Homm T., Hugonnot V., Ignatova E.A., Klama H., Kučera J., Vicherová E., Lamkowski P., Lapshina E.D., Maksimov A.I., Maksimova T.A., Ochyra R., Plášek V., Pleskach L.Ya., Poponessi S., Venanzoni R., Pospelov I.N., Potemkin A.D., Kholod S.S., Sáez L., Skuchas Yu.V., Spitale D., Srivastava P., Omar I., Asthana A.K., Ştefănuţ S., Torzewski K., Virchenko V.M., Wierzgoń M., Wolski G.J. 2019. New national and regional bryophyte records, 60. Journal of Bryology 41: 285‒299. DOI
Ellis L.T., Amélio L.A., Peralta D.F., Bačkor M., Baisheva E.Z., Bednarek-Ochyra H., Burghardt M., Czernyadjeva I.V., Kholod S.S., Potemkin A.D., Erdağ A., Kırmacı M., Fedosov V.E., Ignatov M.S., Koltysheva D.E., Flores J.R., Fuertes E., Goga M., Guo S.-L., Hofbauer W.K., Kurzthaler M., Kürschner H., Kuznetsova O.I., Lebouvier M., Long D.G., Mamontov Yu.S., Manjula K.M., Manju C.N., Mufeed B., Müller F., Nair M.C., Nobis M., Norhazrina N., Aisyah M., Lee G.E., Philippe M., Philippov D.A., Plášek V., Komínková Z., Porley R.D., Rebriev Yu.A., Sabovljević M.S., de Souza A.M., Valente E.B., Spitale D., Srivastava P., Sahu V., Asthana A.K., Ştefănuţ S., Suárez G.M., Vilnet A.A., Yao K.-Y., Zhao J.-Ch. 2019. New national and regional bryophyte records, 59. Journal of Bryology 41: 177–194. DOI
Tan B.C., Ochyra R., Ho B.-C., Bednarek-Ochyra H. 2019. Distichophyllum shevockii (Daltoniaceae, Bryophyta), a new species from the Philippines. Annales Botanici Fennici 56: 361–367. DOI
Bednarek-Ochyra H. 2018. Pantemperate distribution of Bucklandiella sudetica (Bryophyta, Grimmiaceae) in the Southern Hemisphere. Herzogia 31: 48–55. DOI
Bednarek-Ochyra H. 2018. The answer to the riddle of the taxonomic status of Bucklandiella bartramii (Bryophyta, Grimmiaceae). Herzogia 31: 56–69. DOI
Bednarek-Ochyra H., Plášek V., Guo S.-L. 2018. A brief survey of bryological studies in the Subantarctic, including Macrocoma tenue (Orthotrichaceae), a moss genus and species newly found in Îles Kerguelen. Acta Societatis Botanicorum Poloniae 87: 3597. DOI
Ellis L.T., Afonina O.M., Aleffi M., Andriamiarisoa R.L., Bačkor M., Goga M., Bednarek-Ochyra H., Callaghan D.A., Campisi P., Dia M.G., Marino M.L., Enroth J., Erzberger P., Hugonnot V., Ignatova E.A., Kiebacher T., Kučera J., Lebouvier M., Maria G.M., Ştefănuţ S., Nagy J., Pócs T., Poponessi S., Venanzoni R., Gigante D., Prosser F., Reeb C., Sabovljević M.S., Shevock J.R., Shirzadian S., Akhoondi Darzikolaei S., Souza E.R.F., Silva Pinto A., Silva J.B., Lopes S.F., Torzewski K., Kazienko A. 2018. New national and regional bryophyte records, 55. Journal of Bryology 40: 173–187. DOI
Ellis L.T., Aleffi M., Asthana G., Bhagat C., Bakalin V.A., Baráth K., Becker R., Bednarek-Ochyra H., Boiko M., Brito M.R., Pimentel C., Brugués M., Sáez L., Dřevojan P., Enroth J., Erzberger P., Fedosov V.E., Fontinha S., Fuertes Lasala E., Gabriel R., Gallego M., Gradstein S.R., Homm Th., Hugonnot V., Ivchenko T.G., Klimova K.G., Kučera J., Lamkowski P., Lapshina E.D., Lebouvier M., López González A.L., Ma W.-Z., Manolaki P., Monteiro J., Vieira C., Portela A.P., Sim-Sim M., Maksimov A.I., Norhazrina N., Syazwana N., Asyifaa S., Poponessi S., Venanzoni R., Gigante D., Prosser F., Potemkin A.D., Kotkova V.M., Sabovljević M.S., Sabovljević A.D., Schäfer-Verwimp A., Sérgio C., Garcia C., Shevock J.R., Stebel A., Drobnik J., Vončina G., Wei Y.-M. 2018. New national and regional bryophyte records, 57. Journal of Bryology 40: 399–419. DOI
Ellis L.T., Wilbraham J., Aleffi M., Asthana A.K., Rawat K.K., Gupta D., Sahu V., Katiyar P., Asthana G., Srivastava A., Baráth K., Bednarek-Ochyra H., Bruno Silva J., Emanuely de Araújo Farias C., Rangel Germano S., Czernyadjeva I.V., Doroshina G.Ya., Delgadillo Moya C., Peña Retes P., Erzberger P., Fuertes E., Garcia-Avila D., Garilleti R., Hedderson T.A., West A., Hugonnot V., Kürschner H., Lagrandie J., Lara F., Draper I., Lebouvier M., Lönnell N., Hallingbäck T., Mesterházy A., Muñoz J., Németh C.S., Park S.J., Sun B.-Y., Pérez G., Plášek V., Poponessi S., Vernanzoni R., Gigante D., Philippe M., Porley R.D., Sérgio C., Ministro P., Ştefănuţ S., Suárez G.M., Flores J.R., Sulayman M., Wilding N., Yoon Y.-J. 2018. New national and regional bryophyte records, 54. Journal of Bryology 40: 74–97. DOI
Bednarek-Ochyra H., Ochyra R. 2017. A nomenclatural rectification in the widespread East Asian species of Dilutineuron (Bryophyta, Grimmiaceae). Herzogia 30: 362–369. DOI
Bednarek-Ochyra H., Plášek V. 2017. Occurrence of Racomitrium pruinosum (Grimmiaceae, Bryophyta) in New Guinea, with a review of Gondwanan mosses in the tropics. Herzogia 30: 412–426. DOI
Ellis L.T., Afonina O.M., Andriamiarisoa R.L., Bednarek-Ochyra H., Cykowska-Marzencka B., Stryjak-Bogacka M., Bell N.E., Boiko M., Callaghan D.A., Campisi P., Dia M.G., Marino M.L., Provenzano F., Eckstein J., Enroth J., Erzberger P., Ezer T., Gargano M.L., Ginzburg E., Górski P., Gradstein S.R., Reeb C., Hannoire C., Infante M., Jukonienė I., Kushnevskaya E.V., Lebouvier M., Nagy J., Opmanis A., Plášek V., Skoupá Z., Sabovljević M.S., Sabovljević A.D., Shevock J.R., Singh D.K., Majumdar S., Skudnik M., Uselienė A., Venturella G., Węgrzyn M., Wietrzyk P., Yoon Y.-J., Kim J.H., Yücel E. 2017. New national and regional bryophyte records, 53. Journal of Bryology 39: 368–387. DOI
Ellis L.T., Aleffi M., Bednarek-Ochyra H., Bakalin V.A., Boiko M., Calleja J.A., Fedosov V.E., Ignatov M.S., Ignatova E.A., Garilleti R., Hallingbäck T., Lönnell N., Hodgetts N., Kiebacher T., Larraín J., Lebouvier M., Lüth M., Mazimpaka V., Vigalondo B., Lara F., Natcheva R., Nobis M., Nowak A., Orgaz J.D., Guerra J., Pantović J., Nikolić N., Sabovljević M.S., Sabovljević A.D., Pisarenko O.Yu., Plášek V., Skoupá Z., Poponessi S., Privitera M., Puglisi M., Skudnik M., Wang Q.H. 2017. New national and regional bryophyte records, 51. Journal of Bryology 39: 177–190. DOI
Ochyra R., Bednarek-Ochyra H., Plášek V. 2017. (2250) Proposal to conserve the name Plagiomnium against Orthomnion and Orthomniopsis (Bryophyta: Mniaceae). Taxon 66: 1218–1220. DOI
Blom H.H., Bednarek-Ochyra H., Ochyra R. 2016. Studies on Schistidium (Grimmiaceae, Bryophyta) in Europe, with particular reference to the Alps: I. A description of S. marginale sp. nov. Phytotaxa 247: 210–218. DOI
Ellis L.T., Agcagil E., Kırmacı M., Aleffi M., Bakalin V.A., Bednarek-Ochyra H., Cykowska-Marzencka B., Stryjak-Bogacka M., Bojaca G.F.P., Fantacelle L.B., Araújo C.A.T., Maciel-Silva A.S., Bruno Silva J., Calleja J.A., Cano M.J., Castillo Diaz J., Gabriel R., Dias dos Santos N., Enroth J., Erzberger P., Garilleti R., Hájek M., Hedenäs L., Heras P., Infante M., Kiebacher T., Koczur A., Krawczyk R., Kučera J., Lebouvier M., Lüth M., Mazimpaka V., Vigalondo B., Lara F., Nagy J., Németh Cs., Kovács A., Nobis M., Węgrzyn M., Wietrzyk P., Norhazrina N., Vanderpoorten A., Nowak A., Poponessi S., Gigante D., Venanzoni R., Plášek V., Rangel Germano S., Schäfer-Verwimp A., Sérgio C., Claro D., Garcia C.A., Shirzadian S., Akhoondi Darzikolaei S., Stebel A., Suleiman M., Yong K.-T., Virchenko V.M., Vončina G., Yoon Y.-J., Choi H.-G., Kim J.H. 2016. New national and regional bryophyte records, 49. Journal of Bryology 38: 327–347. DOI
Ellis L.T., Alataş M., Asthana A.K., Rawat K.K., Sahu V., Srivastava A., Bakalin V.A., Batan N., Bednarek-Ochyra H., Bester S.P., Borovichev E.A., De Beer D., Enroth J., Erzberger P., Fedosov V.E., Feuillet-Hurtado C., Gradstein S.R., Gremmen N.J.M., Hedenäs L., Katagiri T., Yamaguchi T., Lebouvier M., Maity D., Mesterházy A., Müller F., Natcheva R., Németh Cs., Opisso J., Özdemir T., Erata H., Parnikoza I., Plášek V., Sabovljević S., Sabovljević A.D., Saha P., Md Nehal Aziz, Schröder W., Váňa J., van Rooy J., Wang J., Yoon Y.-J., Kim J.H. 2016. New national and regional bryophyte records, 47. Journal of Bryology 38: 151–167. DOI
Ellis L.T., Aleffi M., Alegro A., Segota V., Asthana A.K., Gupta R., Singh V.J., Bakalin V.A., Bednarek-Ochyra H., Cykowska-Marzencka B., Benitez A., Borovichev E.A., Vilnet A.A., Konstantinova N.A., Buck W.R., Cacciatoro C., Sérgio C., Csiky J., Deme J., Kovács D., Damsholt K., Enroth J., Erzberger P., Fedosov V.E., Fuertes E., Gradstein S.R., Gremmen N.J.M., Hallingbäck T., Jukonienė I., Kiebacher T., Larraín J., Lebouvier M., Lüth M., Mamontov Yu.S., Potemkin A.D., Nemeth Cs., Nieuwkoop J.A.W., Nobis M., Węgrzyn M., Wietrzyk P., Osorio F., Parnikoza I., Virchenko V.M., Peralta D.F., Carmo D.M., Plášek V., Skoupá Z., Poponessi S., Venanzoni R., Puche F., Purger D., Reeb C., Rios R., Rodriguez-Quiel E., Arrocha C., Sabovljević M.S., Nikolić N., Sabovljević A.D., dos Santos E.L., Segarra-Moragues J.G., Ştefănuţ S., Stončius D. 2016. New national and regional bryophyte records, 48. Journal of Bryology 38: 235–259. DOI
Pócs T., Ochyra R., Bednarek-Ochyra H. 2016. Lepidozia cupressina (Marchantiopsida, Lepidoziaceae) in sub-Saharan Africa, with a note on the taxonomic status of L. chordulifera. Cryptogamie, Bryologie 37: 125–147. DOI