Honourable mention for our doctoral student at Cairo Science Forum
We are pleased to announce that Miron Gieniec, a PhD student at the Doctoral School of Natural and Agricultural Sciences in Kraków, won an honourable mention at the Cairo Science Forum – an international conference held in Cairo, February 7–9, 2023, under the auspices of the Alexander von Humboldt Foundation, the International Union of Biological Sciences (IUBS) and the Egyptian National Research Centre (NRC). During the Young Scientists Session, Miron was awarded a short oral presentation of his research entitled "Can diurnal oscillation of internal carbon dioxide concentration modify daily course of ethylene biosynthesis in C3/CAM plants?". The session was attended by PhD students and scientists with up to 5 years of post-doctoral experience.
Congratulations!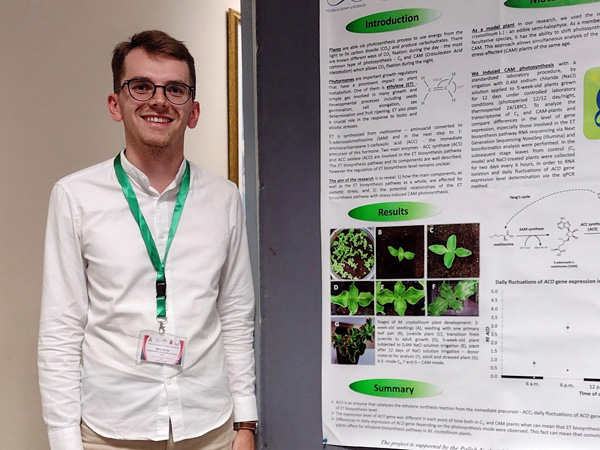 Miron at his poster.
Photo: Natalia Kulikova.